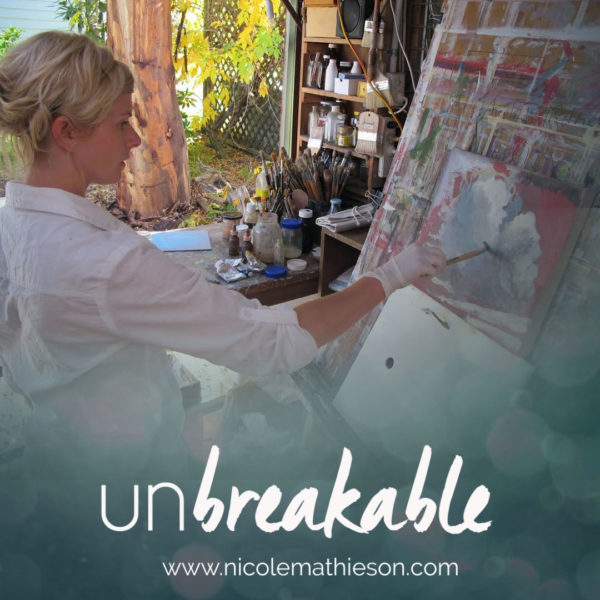 {Unbreakable: Episode 2}
Susie Dureau
The choice to leave sadness behind
In this episode of unbreakable I speak to Sydney based artist and long-time friend of mine Susie Dureau.
Thirteen years ago Susie gave birth to a beautiful baby girl named Eva, only to lose her a few hours later. The worst thing you can possibly imagine happening happened to Susie.
In this interview Susie tells us;
+ how she navigated those first moments of coming back into life without her baby
+ how her connection with Eva has changed over the years from sadness into something inspiring and beautiful
+ what to do and say when someone you love is going through great loss (we need all the help we can get)
+ how her creativity gave her an outlet and haven from her pain
+ and how she has changed and grown in ways she never would have expected.
This episode is full of grace and hope.
Enjoy
Listen in
Resources mentioned
Nick Cave film  – One More Time with Feeling
SIDS – booklet "Family and Friends"
Stillbirth organisation – The Stillbirth foundation
SBS documentary on Susie – "Where the light gets in"
More about Susie
Susie Dureau's atmospheric paintings are more biographies than landscapes – stories of the natural world intertwined with the human condition, emotion and behaviour. As much great joy as desperate sorrow, the Turneresque storms and seas of light and colour tell a greater story of her desire for human compassion, without ever depicting a single human being.
Susie uses oil on linen or panel, which she prepares herself. 'It's almost like summoning the ghosts of masters past,' she says of her dedication to traditional techniques.
Susie holds a Bachelor of Design Hons (Visual Communications), University of Technology, Sydney and a Bachelor of Fine Art, National Art School, Sydney. She lives with her family on Sydney's northern beaches.
Where to find her
Website: www.susiedureau.com
Facebook: Susie Dureau
Instagram:  @sdureau
Words of wisdom
If you enjoyed this episode, I would love for you to pop over to itunes and leave and review and rating to help spread the "unbreakable" message.
Also, can you relate? Do you have your own bathroom floor moment that brought you to your knees and helped you find your unbreakable spirit? I would love to hear from you. Leave a comment below or email me hi@nicolemathieson.com.
The music used throughout this podcast is a snippet of my Heal your heart meditation by Sonesence. If you are on the bathroom floor, check out the meditones tracks by Sonesence for effortless relaxation.
If you are thinking of starting your own podcast. Do it!! It is so expansive and fulfilling. But don't do it alone. Grab these guidebooks and resources from Alana Helbig for the most soulful, graceful and tech savvy help around.